13 Oct

Lunchtime Facelift – A NonSurgical Facelift with Threadlifts, Exosomes and PRP Therapy in Nashville and Scottsdale

R3 Anti Aging developed the Lunchtime FaceliftTM to offer patients a way to look at least 10 years younger in the time it takes to eat lunch! Our proprietary solution is non-surgical, safe, cost effective and… FAST. And there's no downtime!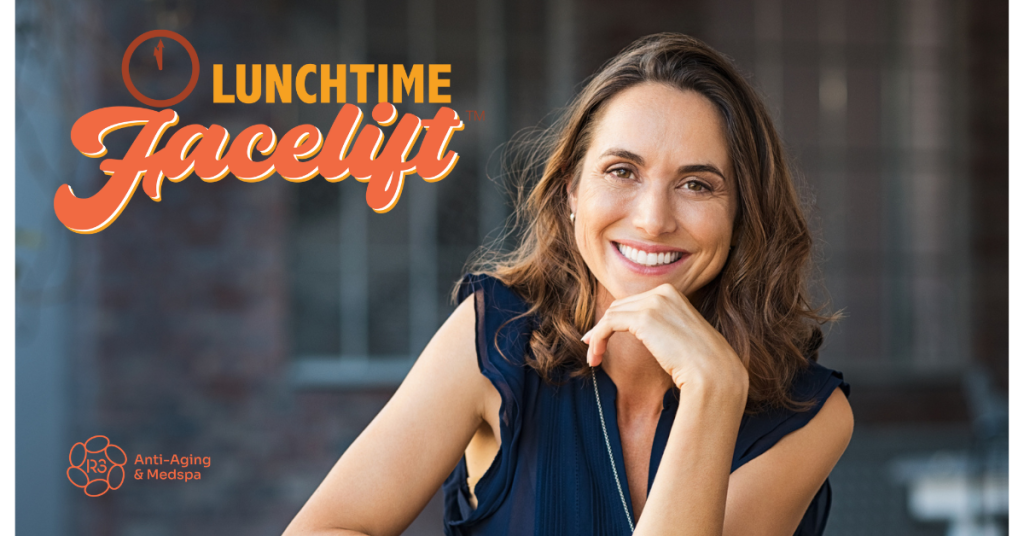 When considering aesthetic procedures, it used to be the only way to achieve lifting of sagging tissue was with a surgical facelift. Surgery is very costly, entails downtime, and there are potential risks involved. 
Enter the Lunchtime FaceliftTM! R3's experienced providers are able to lift tissues of the face during the procedure with cosmetic threads, known as a threadlift. The threadlift procedure is fast, safe and incredibly effective at lifting the sagging tissue to eliminate wrinkles and produce a youthful appearance. You can go right back to work without downtime.
Whether you are dealing with marionette lines, sagging jowels, crow's feet, enlarged nasolabial folds, a "turkey neck" or other wrinkles, this nonsurgical option is your best bet for looking incredibly younger… fast. The additional great thing about the Lunchtime FaceliftTM  is that it's fully customized to your needs. Your appearance is unique, and the exact thread placement will be unique as a result to produce your desired result.
Have a wedding coming up? Lunchtime FaceliftTM
Have a reunion on the horizon? Lunchtime FaceliftTM
Are you getting back on the dating scene and want to look BETTER than your profile picture? Lunchtime FaceliftTM
Want to make your friends jealous? Lunchtime FaceliftTM
Whatever the reasoning, there is no better way to spend your lunchtime than a quick lift at R3 Anti Aging & Medspa in Scottsdale and Nashville.
How does a threadlift procedure work? The cosmetic thread is constructed of absorbable material. The barbed type of thread acts by pulling up on sagging tissue, which eliminates wrinkles and produces a youthful appearance. In addition, the thread material produces a response in the subcutaneous skin. Collagen and fibrin are produced, which acts to tighten the skin and "hold" the skin in its new lifted position, even after the thread is absorbed.
How long do the effects last? Anywhere from one to two years. Depending on the thread type used, it may absorb in six to twelve months. But as mentioned, the new collagen formed will continue the skin lift for a period after that.
Along with the cosmetic thread lift, the Lunchtime FaceliftTM also consists of regenerative biologics called Exosomes and Platelet Rich Plasma (PRP) Therapy being injected under the skin (extra fees may apply depending on quantity). Why? R3's providers developed the technique of specific exosome and PRP placement to assist the threads in lifting better, for a longer time, and enhancing the amount of collagen produced.
The end result of the Lunchtime Facelift is the face not only has less wrinkles with sagging skin being lifted, but also a much more youthful appearance. The exosomes and PRP act to plump up the skin and produce a glow that emanates along with a tightness too. Your friends and family will have their jaws dropping with your new look!
Who can benefit from the Lunchtime Facelift? Both men and women who are noticing fine lines, wrinkles, sagging skin are excellent candidates. Anyone who has a special event coming up, such as a wedding, reunion, family function, etc can take advantage of the quick, safe lift with no downtime.
R3 Anti Aging & Medspa in Nashville and Scottsdale developed the Lunchtime Facelift as the leader in nonoperative aesthetics. Not only do our experienced providers offer the procedure, we TEACH it to providers nationwide as part of R3 Medical Training! 
Visit with our Faculty training providers today to receive your Lunchtime FaceliftTM from the leaders in the procedure today!
Simply call (833) R3-AGING now to schedule your lift.
Sign up for special offers